Success Stories
Below you will find amazing Success Stories from truly incredible people. My philosophy is this:
You may take vitamins daily, you may workout daily - why not get Inspired Daily?
My mission is to REMIND You DAILY to stay strong and focused in Your persuit of the achievement of Your goals.
Please take a moment to see how my FREE Daily Inspirational Reminder Service can help you reach YOUR goals!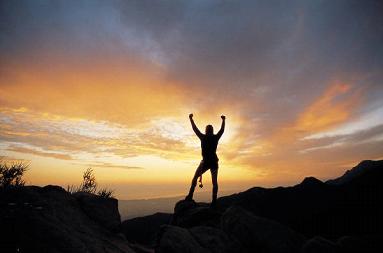 My mission in presenting you with the following Success Stories is to help you to achieve all of the goals you have set for yourself. I understand that even the small things in life like a little inspiration can go a long way. If I can help you to achieve your dreams, goals and ambitions, then I have in turn achieved mine...
Author Elbert Hubbard told the story of an incident during the Spanish-American War. It was imperative that the president get a message to the leader of the insurgents. His name was Garcia and he was known to fighting somewhere in the mountains of Cuba, but no mail or telegraph could reach him. Someone said, "There's a fellow by the name of Rowan who will find Garcia for you if anybody can."
Rowan took the letter without hesitation. He sealed it in a leather pouch strapped over his heart. He landed in the dark of night off the coast of Cuba and make his way to the mountains, and after much difficulty, found Garcia. He handed him the letter, turned around and headed home. Hubbard tells this story in "A Letter to Garcia." Rowan didn't ask, "Exactly where is he?" or "I doubt if I can do it." There was a job to be done and he did it.
Instead of making a dozen excuses why you can't complete the task, think about Rowan. Deliver the goods!
------------------------------------------------------------------------
While watching the Olympics the other night, I came across an incredible sight. It was not a gold medal, or a world record broken, but a show of sheer determination and guts.
The event was swimming and started with only three men on the blocks. For one reason or another, two of them false started, so they were disqualified. That left only one to compete. That would have been difficult enough, not having anyone to race against, even though the time on the clock is what's important.
I watched the man dive off the blocks and knew right away that something was wrong. Now I'm not an expert swimmer but I do know a good dive from a poor one, and this was not exactly medal quality. When he resurfaced, it was evident that the man was not out for gold -- his arms were flailing in an attempt at freestyle. The crowd started to titter. Clearly this man was not a medal contender.
I listened to the crowd begin to laugh at this poor man that was clearly having a hard time. Finally he made his turn to start back. It was pitiful. He made a few desperate strokes and you could tell he was exhausted.
But in those few awkward strokes, the crowd had changed.
No longer were they laughing, but beginning to cheer. Some even began to stand and yell things like, "Come on, you can do it!" and, "Go for it!" He did.
A clear minute past the average swimmer, this young man finally finished his race. The crowd went wild. You would have thought that he had won the gold, and he should have. Even though he recorded one of the slowest times in Olympic history, this man gave more heart than any of the other competitors.
Just a short year ago, he had never even swam, let alone raced. His country had been asked to Sydney as a courtesy.
In a competion where athletes remove their silver medals feeling they have somehow been cheated out of gold, or when they act so arrogantly in front of their rivals, it is nice to watch an underdog.
A man that gave his all -- knowing that he had no chance, but competed because of the spirit of the games.
----------------------------------------------------
Let me tell you about a little girl who was born into a very poor family in a shack in the Backwoods of Tennessee. She was the 20th of 22 children, prematurely born and frail. Her survival was doubtful. When she was four years old she had double pneumonia and scarlet fever - a deadly combination that left her with a paralyzed and useless left leg. She had to wear an iron leg brace. Yet she was fortunate in having a mother who encouraged her.
Well, this mother told her little girl, who was very bright, that despite the brace and leg, she could do whatever she wanted to do with her life. She told her that all she needed to do was to have faith, persistence, courage and and indomitable spirit.
So at nine years of age, the little girl removed the leg brace, and she took the step the doctors told her she would never take normally. In four years, she developed a rhytmic stride, which was a medical wonder. Then this girl got the notion, the incredible notion, that she would like to be the world's greatest woman runner. Now, what could she mean - be a runner with a leg like that?
At age 13, she entered a race. She came in last - way, way last. She entered every race in high school, and in every race she came in last. Everyone begged her quit! However, one day, she came in next to last. And then there came a day when she won a rece. From then on, Wilma Rudolph won every race that she entered.
Wilma went to Tennessee State University, where she met a coach named Ed Temple. Coach Temple saw the indomitable spirit of the girl, that she was a believer and that she had great natural talent. He trained her so well that she went to the Olympic Games.
There she was pitted against the greatest woman runner of the day, a German girl named Jutta Heine. Nobody had ever beaten Jutta. But in the 100-meter dash, Wilma Rudolph won. She beat Jutta again in the 200-meters. Now Wilma had two Olimpic gold medals.
Finally came the 400-meter relay. It would be Wilma against Jutta once again. The first two runners on Wilma's team made perfect handoffs with the baton. But when the third runner handed the baton to Wilma, she was so excited she dropped it, and Wilma saw Jutta taking off down the track. It was impossible that anybody could catch this fleet and nimble girl. But Wilma did just that! Wilma Rudolph had earned three Olympic gold medals.
-----------------------------------
After ten years of working for a prestigious Wall Street bank and slamming into a glass ceiling, I vehemently said "Enough!"
If I was going to have an inspiring, compelling life and go beyond a clock- punching, nine-to-five job, I knew I had to make the decision to create it and shift gears.
I began looking. I'd never let my deafness shortchange my dreams. I wasn't about to start now.
After scanning local advertisements, I learned a financial giant was looking to hire more stockbrokers. I thought, I can do that! With great excitement, I called a few people and made an appointment to see a branch vice president.
On the day of my appointment, I was terribly sick with a cold and 101 degree fever that threatened to keep me in bed. Yet, I knew I couldn't let this golden opportunity slip away, so I reluctantly showed up for the interview.
We ended up talking for over three hours. It went so well, I was positive he would hire me on the spot. Instead, he told me to come back for 12 more interviews with his top salespeople!
Over the next five months, every one of them discouraged me from becoming a stockbroker.
"You're better off in a safe 9-to-5 job," they proclaimed. "Eighty percent of newcomers fail within their first year," they added. "You have no investment experience."
"You won't make it."
The more they attacked my dream, the more my stomach tightened. I realized then that I would have to "fake it to make it."
The last interview with the vice president was scheduled on a cold, blustery January day. Five minutes into the meeting, it was obvious he didn't know what to do with me. He nervously played with a paper clip and pretended to read a report I had prepared on how I would build my business if I was hired.
It was now or never. With all the courage I could muster, I looked at him straight in the eye and captured his attention.
"Sir," I said, "If you don't hire me, you'll never know just how much I could've done for this firm." When I heard my own brazen words, I panicked. My God, I thought, what have I done? Can I really back that up?
I waited and waited. The seconds seemed like minutes and the minutes, like hours.
He threw the paper clip in the wastebasket and finally spoke.
"Okay, you've got the job!" he announced.
I stood up triumphantly and was about to leave when he added, "On one condition."
I froze.
"First," he said, "you must first resign from your job, effective two weeks from today and enroll in our three-month training program. When you're done with that, you'll be required to take the Series 7 stockbroker exam. It's 250 questions long and you must pass it on the first try."
He then drove home his final point, "If you fail even by one point -- you're out!"
My mouth went dry. I nearly choked at the prospect of taking a huge leap of faith into the unknown. I knew I stood to lose everything if I failed that test!
Then, captivated by this ultimate risk taking opportunity and the courage I never knew I had, I swallowed hard and said, "I'll take it."
As instructed, I cut my lifeline to the bank and leapt into unproven waters.
After three months of training, I was ready to take the three-hour exam. The test site was a short distance from where I would be working, if I passed.
I remember taking the elevator to the seventh floor and registering. From the reception area, I could see the test room through the glass partition. It was full of computers, all deliberately spaced in several rows. The room was sparsely furnished with the barest of essentials: scrap paper, several sharpened pencils and uncomfortable-looking chairs.
The exam proctor cheerfully led me to my assigned computer. I thought, at least she wasn't taking the test!
Soon she gave me a signal to go ahead. I was very nervous but as the test progressed, I felt increasingly confident. Three hours passed quickly.
It was time for the final score -- the computer would calculate it and flash it on the screen.
I sat there with my hands folded on my lap and stared at the computer that held the key to my future. I was positive someone could hear my heart thumping. The screen blinked on and off with the message, "Your scores are being tabulated by the computer, please wait."
I couldn't wait -- I wanted it to be over with!
Finally, the scores were displayed.
I had passed! I let out an audible sigh of relief.
Since that day, I've never looked back. I exceeded not only my own expectations but also those of the manager who took a chance and hired me on that fateful day. Before being promoted upstairs, he was around long enough to witness my personal sales soar 1,700%, hand me several sales awards and see me interviewed on CNN.
That was in 1992. Four years later, I took another daring risk and left the lucrative securities industry to become an inspirational speaker and author.
My experiences confirmed the truth of Thoreau's words: "If one advances confidently in the direction of his dreams and endeavors to live the life which he had imagined, he will meet success unexpected in common hours."
-----------------------------------------------------------------------
The greatest saleswoman in the world today doesn't mind if you call her a girl. That's because Markita Andrews has generated more than eighty thousand dollars selling Girl Scout cookies since she was seven years old.
Going door-to-door after school, the painfully shy Markita transformed herself into a cookie-selling dynamo when she discovered, at age 13, the secret of selling.
It starts with desire. Burning, white-hot desire.
For Markita and her mother, who worked as a waitress in New York after her husband left them when Markita was eight years old, their dream was to travel the globe. "I'll work hard to make enough money to send you to college," her mother said one day. "You'll go to college and when you graduate, you'll make enough money to take you and me around the world. Okay?"
So at age 13 when Markita read in her Girl Scout magazine that the Scout who sold the most cookies would win an all- expenses-paid trip for two around the world, she decided to sell all the Girl Scout cookies she could - more Girl Scout cookies than anyone in the world, ever.
But desire alone is not enough. To make her dream come true, Markita knew she needed a plan.
"Always wear your right outfit, your professional garb," her aunt advised. "When you are doing business, dress like you are doing business. Wear your Girl Scout uniform. When you go up to people in their tenement buildings at 4:30 or 6:30 and especially on Friday night, ask for a big order. Always smile, whether they buy or not, always be nice. And don't ask them to buy your cookies; ask them to invest."
Lots of other Scouts may have wanted that trip around the world. Lots of other Scouts may have had a plan. But only Markita went off in her uniform each day after school, ready to ask - and keep asking - folks to invest in her dream. "Hi, I have a dream. I'm earning a trip around the world for me and my mom by merchandising Girl Scout cookies," she'd say at the door. "Would you like to invest in one dozen or two dozen boxes of cookies?"
Markita sold 3,526 boxes of Girl Scout cookies that year and won her trip around the world. Since then, she has sold more than 42,000 boxes of Girl Scout cookies, spoken at sales conventions across the country, starred in a Disney movie about her adventure and has co-authored the best seller, How to Sell More Cookies, Condos, Cadillacs, Computers ... And Everything Else.
Markita is no smarter and no more extroverted than thousands of other people, young and old, with dreams of their own. The difference is Markita had discovered the secret of selling: As, Ask, Ask! Many people fail before they even begin because they fail to ask for what they want. The fear of rejection leads many of us to reject ourselves and our dreams long before anyone else ever has the chance - no matter what we're selling.
And everyone is selling something. "You're selling yourself everyday - in school, to your boss, to new people you meet," said Markita at 14. "My mother is a waitress: she sells the daily special. Mayors and presidents trying to get votes are selling ... I see selling everywhere I look. Selling is part of the whole world."
It takes courage to ask for what you want. Courage is not the absence of fear. It's doing what it takes despite one's fear. And, as Markita has discovered, the more you ask, the easier (and more fun) it gets.
Once, on live TV, the producer decided to give Markita her toughest selling challenge. Markita was asked to sell Girl Scout cookies to another guest on the show. "Would you like to invest in one dozen or two dozen boxes of Girl Scout cookies?" she asked.
"Girl Scout cookies? I don't buy any Girl Scout cookies!" he replied. "I'm a Federal Penitentiary warden. I put 2,000 rapists, robbers, criminals, muggers and child abusers to bed every night."
Unruffled, Markita quickly countered, "Mister, if you take some of these cookies. maybe you won't be so mean and angry and evil. And, Mister, I think it would be a good idea for you to take some of these cookies back for every one of your 2,000 prisoners, too."
Markita asked.
The Warden wrote a check.
------------------------------------------------------------------------
Whatever goals you have set for yourself: weight loss, greater health, financial freedom, less stress, better relationships...whatever is most important to YOU - I will be there with you until you have achieved them.

Consider me your Goal Achievement Personal Trainer and Coach!
When you subscribe to the FREE Daily Inspirational Reminders service, I will email you one of the following every day:

Funny Jokes (Sometimes you just need a laugh!)
Other awesome inspiring words
Subscribe To Get Your Daily Inspirational Reminders!
You will not be emailed any of the same exact content that is published on the site - I want to surprise you every day with new inspiring information! Also, You can always easily cancel the reminders at any time.
I have affiliated myself with some of the most amazing people who are experts in their respective fields. The experts that I recommend (or the experts that you are currently using) have the responsibility to give you the tools and guidance to make sure you attain your goals. My responsibility, as a friend, is to help you to not give up until you have what you want.
Thank you for reading my collection of Success Stories! I update the site Daily, so please come back to see the latest additions to the InspirationalReminders.Com collection.